Since I haven't posted in a couple of weeks, I thought I'd write a quick post re: finished projects and activities.
Finished Projects
Slytherin Houndstooth Scarf
Draft: Houndstooth
Loom: 15″ Cricket Table Top Loom
Reed: 10 dent
Warp Stats

Yarn: 150 yards (including loom waste) of Knit Picks Capretta in Platinum and 150 yards (including loom waste) of Cascade Heritage Silk in Pine
Loom waste: 31 yards
Total Warp Ends: 110
Ends Per Inch (EPI): 10
Warp Length: 100″

Weft Stats

Yarn: 153.6 yards Knit Picks Capretta in Platinum and 142.8 yards Cascade Heritage Silk in Pine
Picks Per Inch (PPI): 10 – 12
Width in the Reed: 11″
I didn't write a post about finishing this scarf, though it's appeared in several WIP Wednesday posts (January 22, February 4, March 25). I had to finish it so that I could weave the Dr. Who scarf on my rigid heddle loom! Since this is the fourth Houndstooth Scarf I finished (see the posts on Gryffindor, Hufflepuff, and Ravenclaw Houndstooth scarves), I felt like I didn't necessarily learn anything new on this project. I did apply the lessons learned on the prior Houndstooth scarves, so the Slytherin is the most consistent of the four.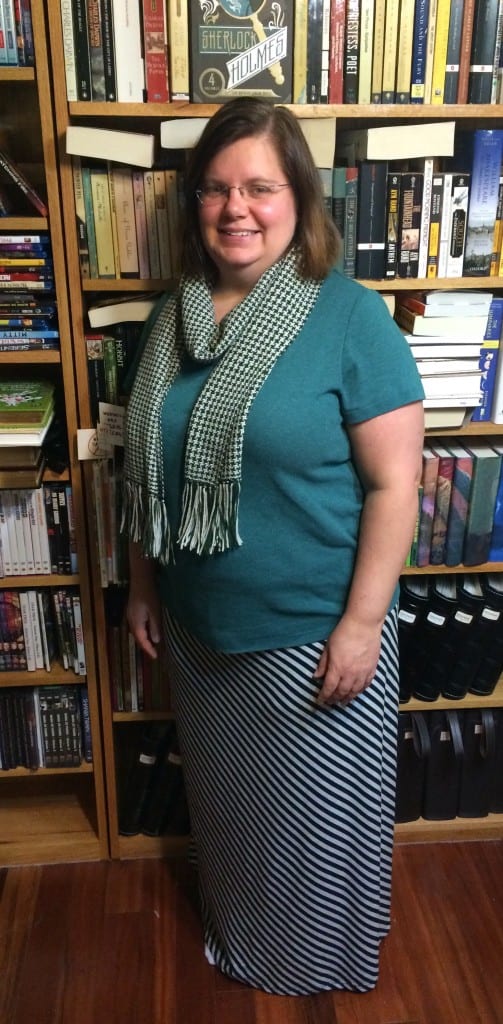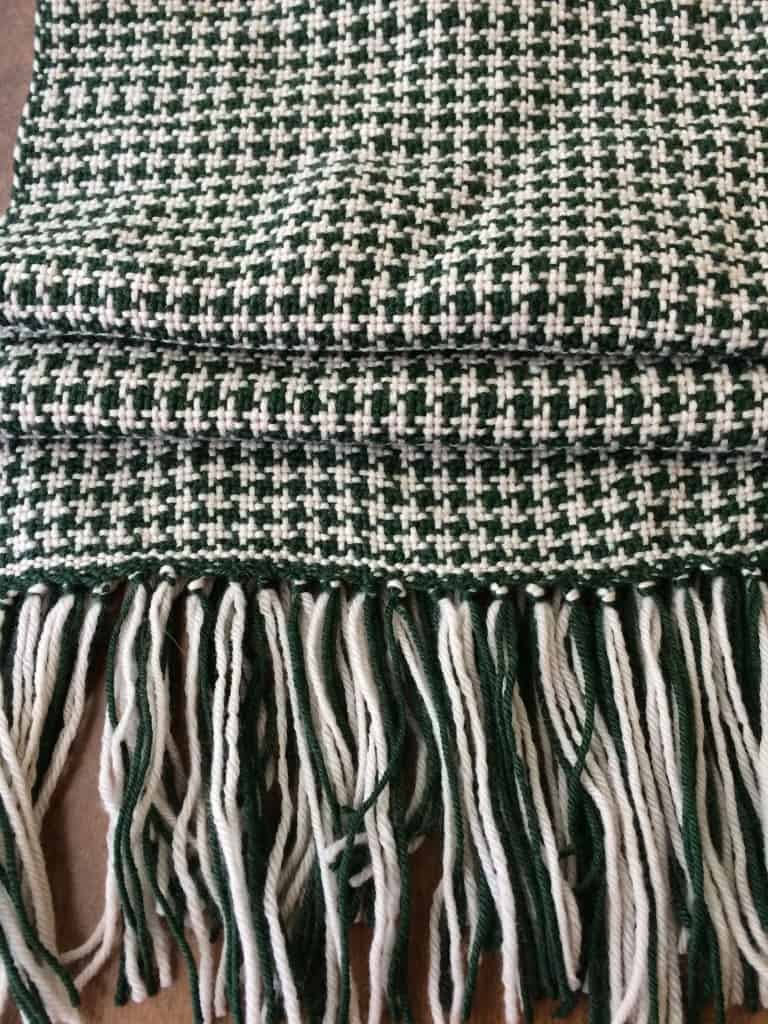 Cotton Candy Corriedale
Wheel: Kromski Fantasia
Spinning Twist: S (clockwise)
Plying Twist: Z (counter-clockwise)
Ratio: 8:1
Singles Yardage: 978 yards
Fiber: Sassy Bee Corriedale in Cotton Candy
Finished skein:

Ply Structure: 420 yards 2-ply; 46 yards n-ply
Weight: 4 oz
This is another project that I've been working on for a while and which has appeared in a couple of WIP Wednesday posts (February 4, February 18). As of February 18, I'd finished plying and had wound most of the yarn onto a niddy noddy. It then sat around, still on the niddy noddy, awaiting washing.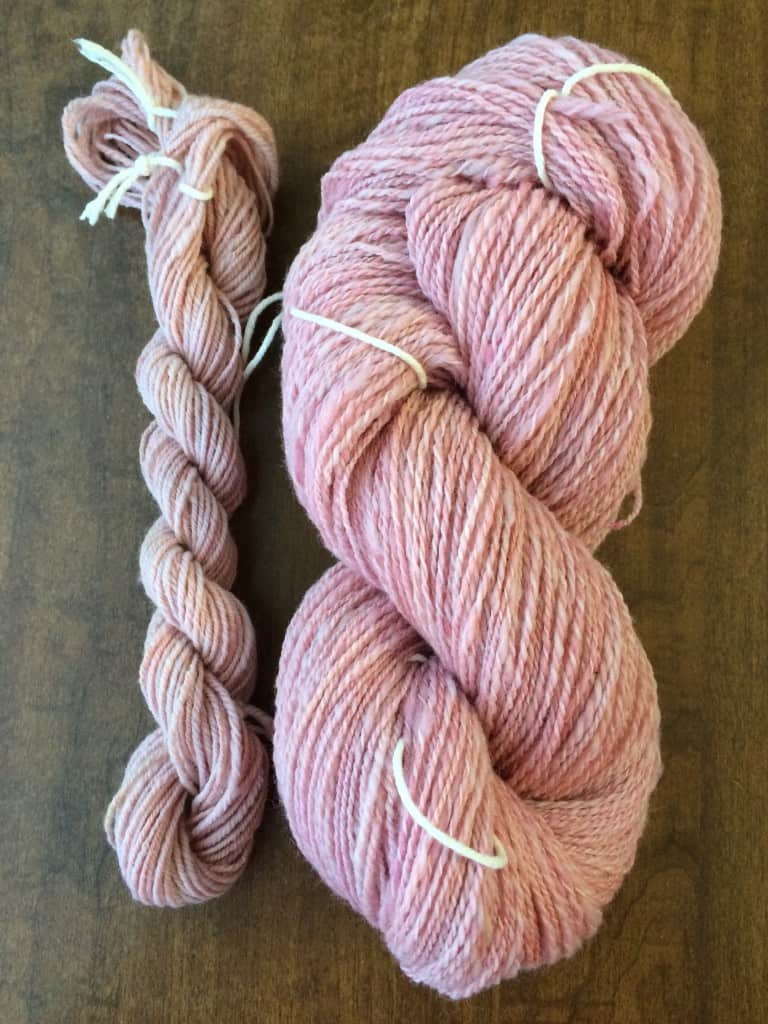 Dr. Who Scarf
I did write a blog post about this one!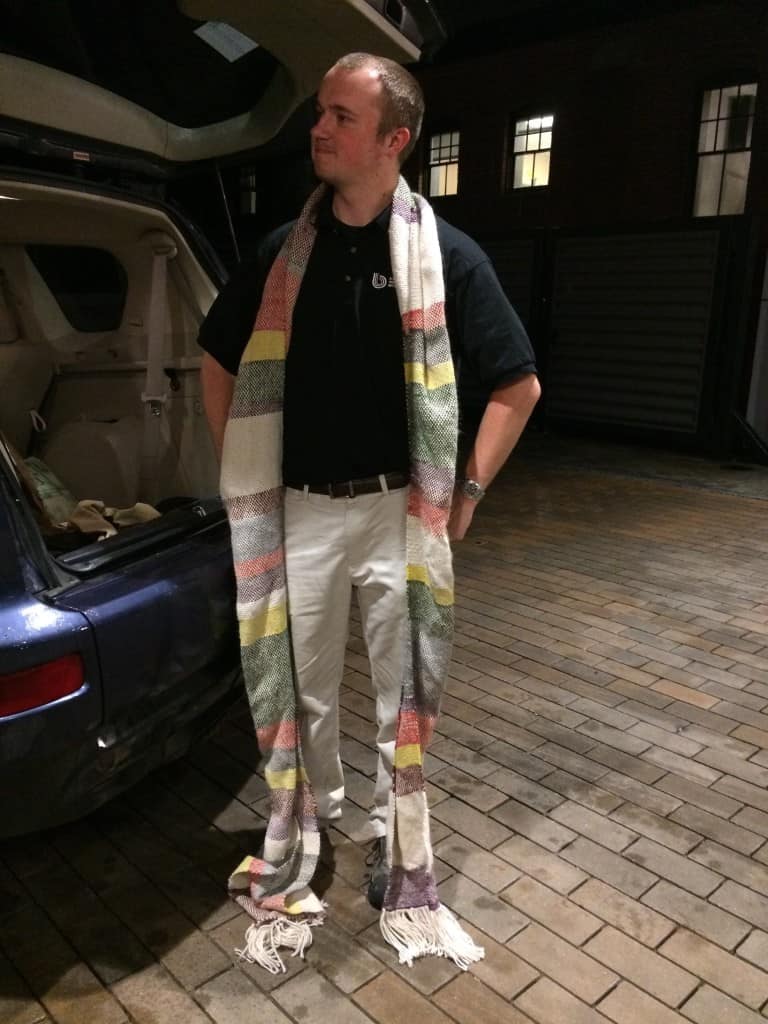 Felted Cat Bed
Pattern: garter stitch
Yarn: 440 yards Patons SWS in Geranium
Needles: US 13 / 9.0 mm
Pre-felting dimensions: 23″ wide by 40″ long
Post-felting dimensions: 11.5″ wide by 19″ long
Made for: Pepper
I whipped out a new cat bed to line the bookshelf where Pepper likes to sleep. Although she wasn't very co-operative re: posing for the picture, she loves the bed. It's now her favorite sleeping spot.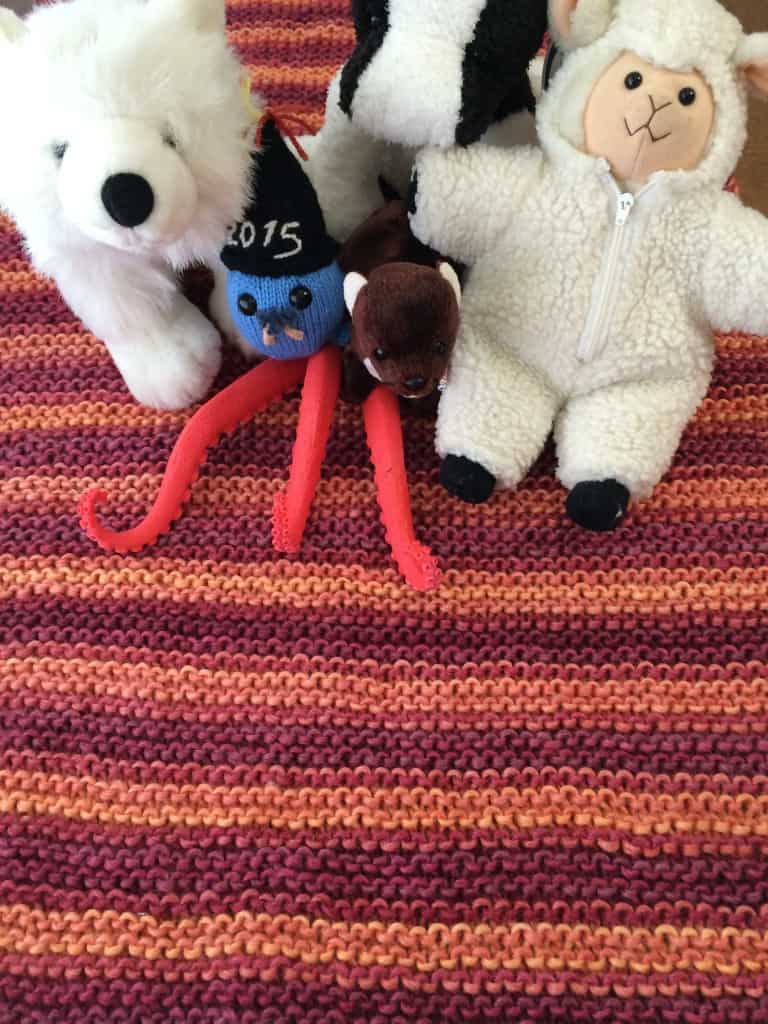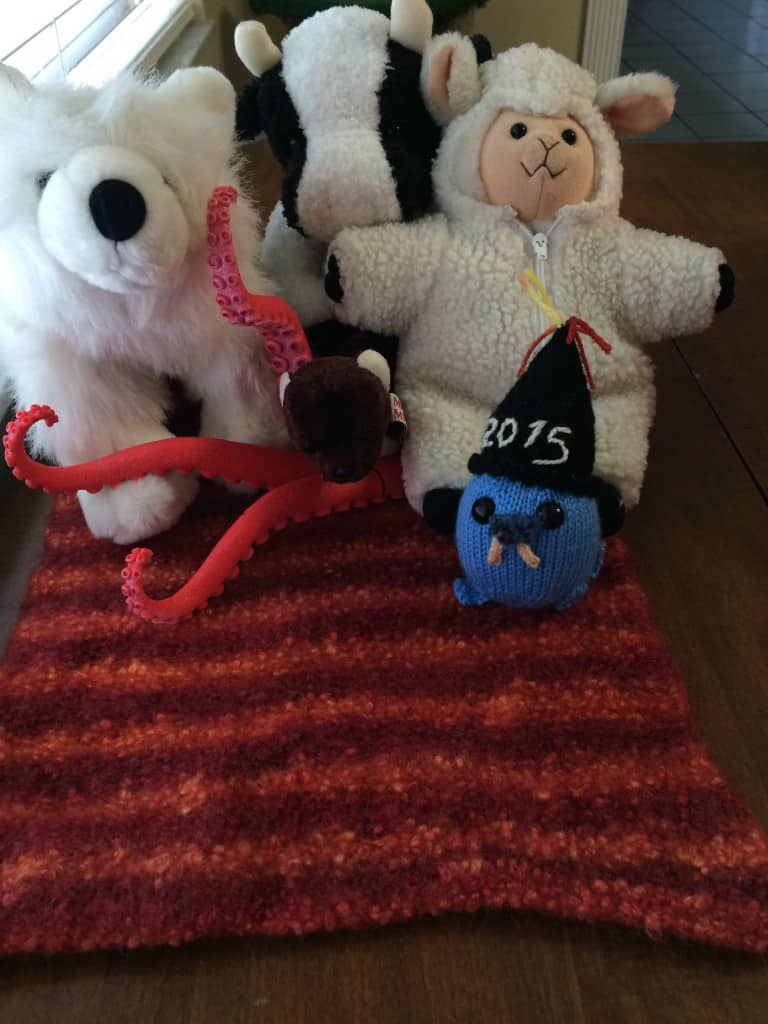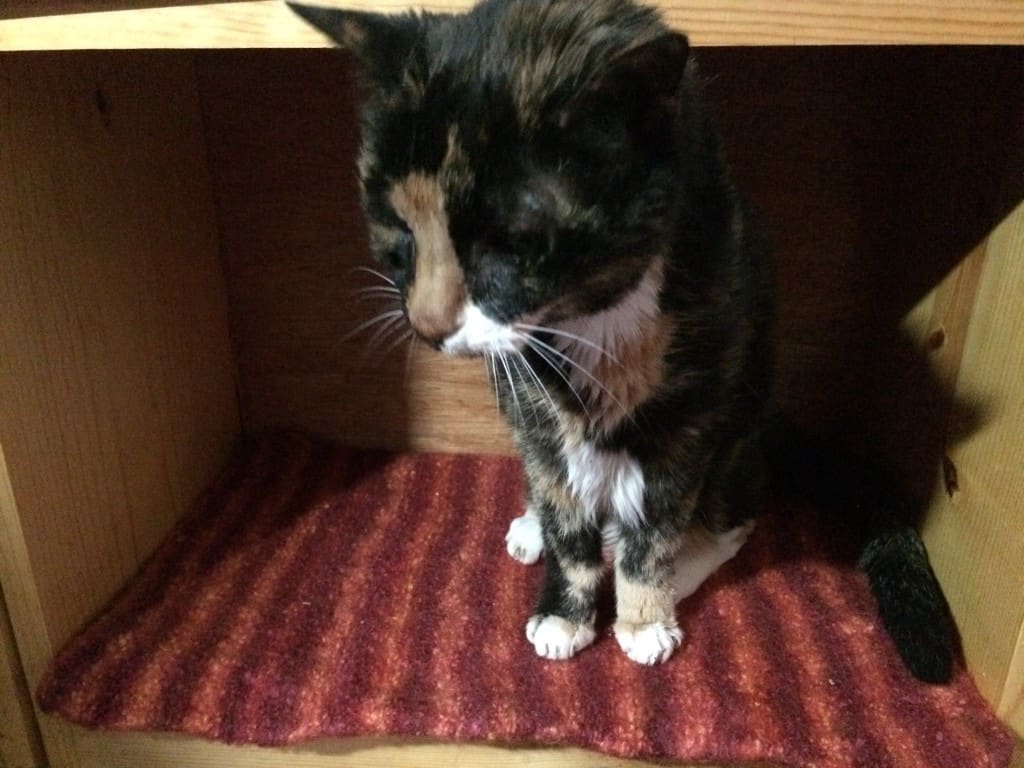 Semi-finished Projects
These projects are "semi-finished" because I'm making multiple dishcloths from the same patterns, as part of my ongoing Dishcloth Advent Calendar (details in my 2015 Plans post) project. I've finished at least one individual item, but am still working on making more. I need to make 18 dishcloths in each pattern, and will write blog posts with all the project details when I finish all 18.
Heart Illusion Dishcloths
I finished 9 of these in May.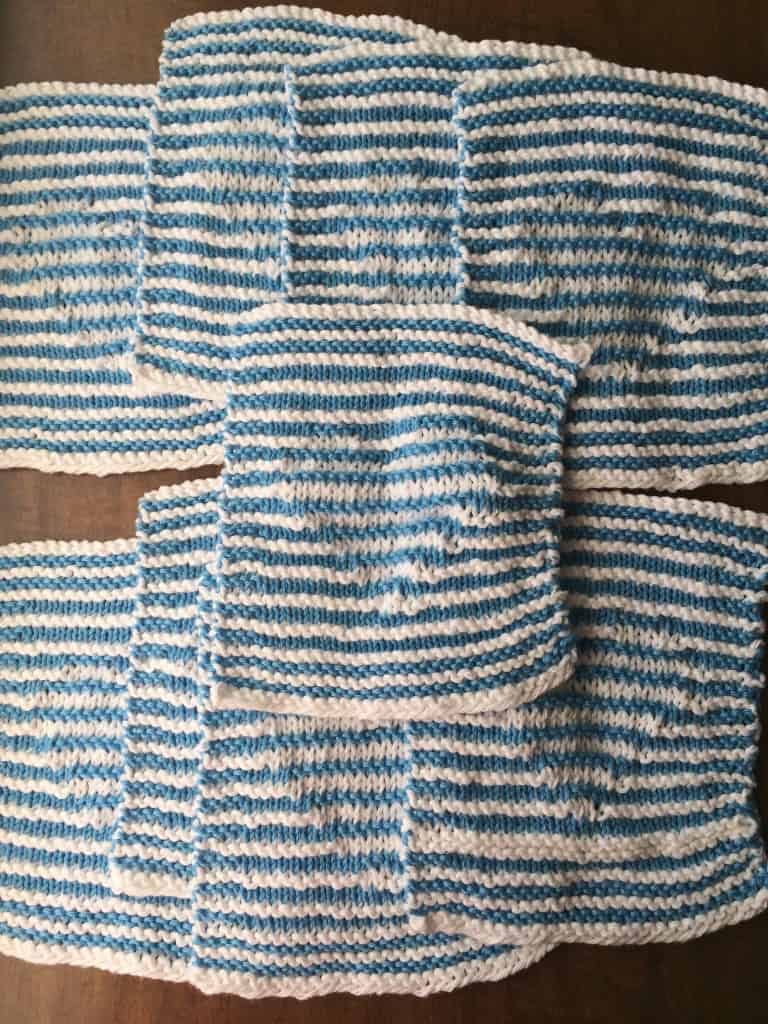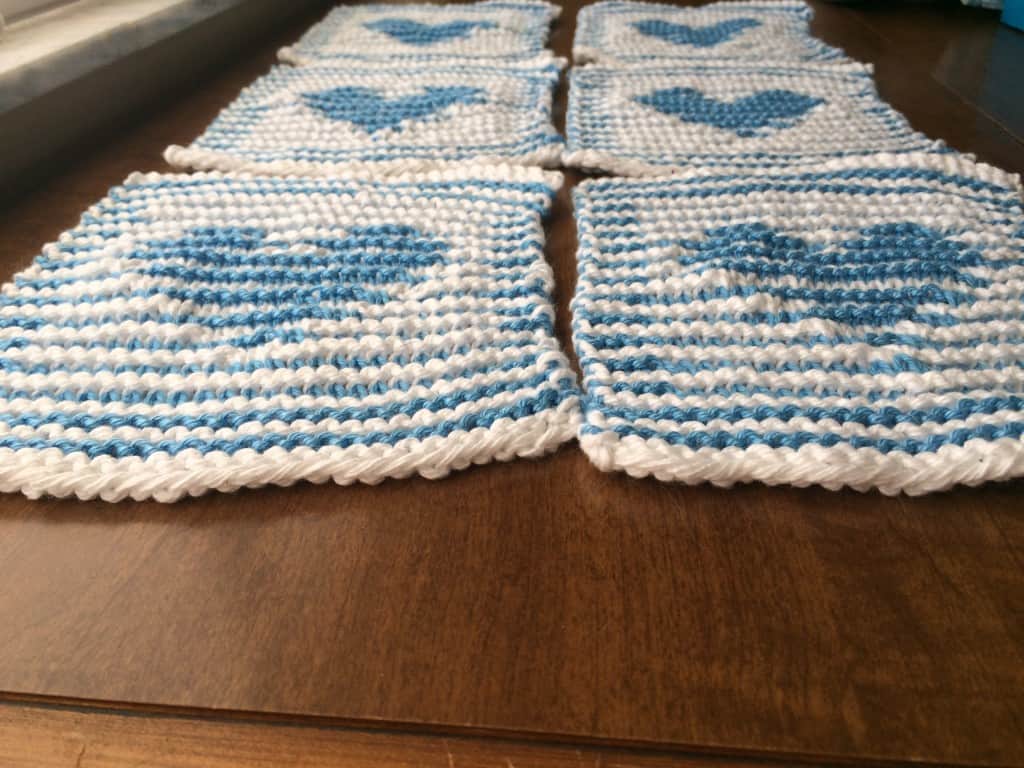 Bias Knit, Crochet Cotton Dishcloth
I only finished one of these. Even with two strands held together, it took about 3 hours to knit one of these, and I didn't even make it as big as the pattern suggests. It'll take me a while to make all 18 of these, but I do like them.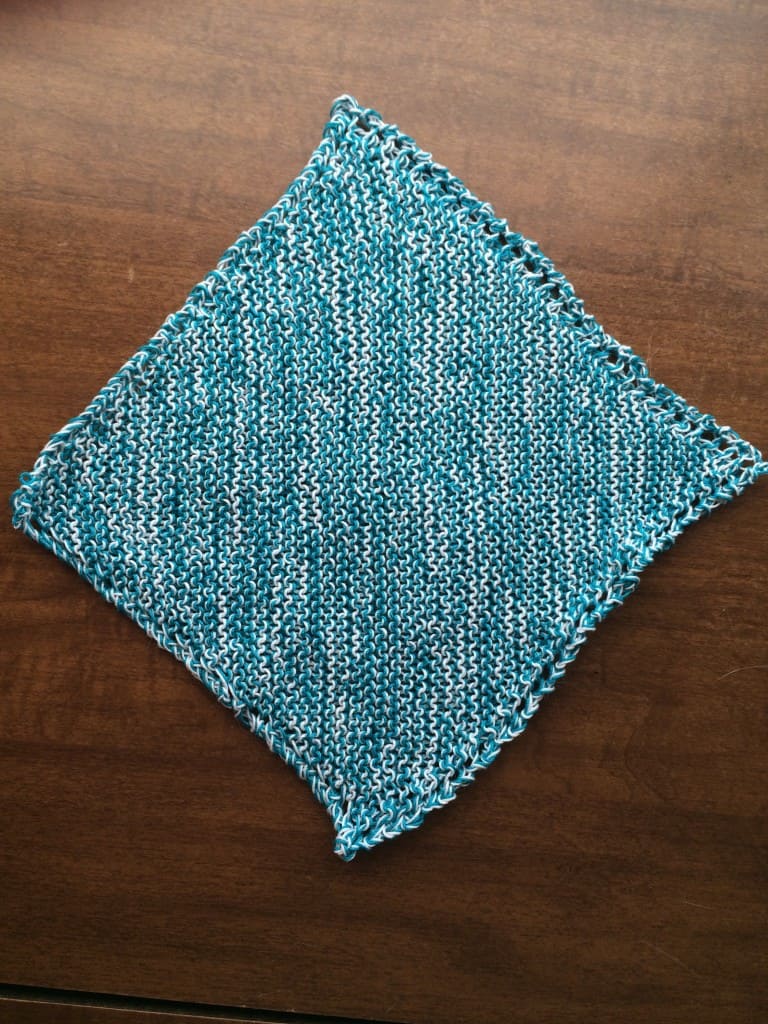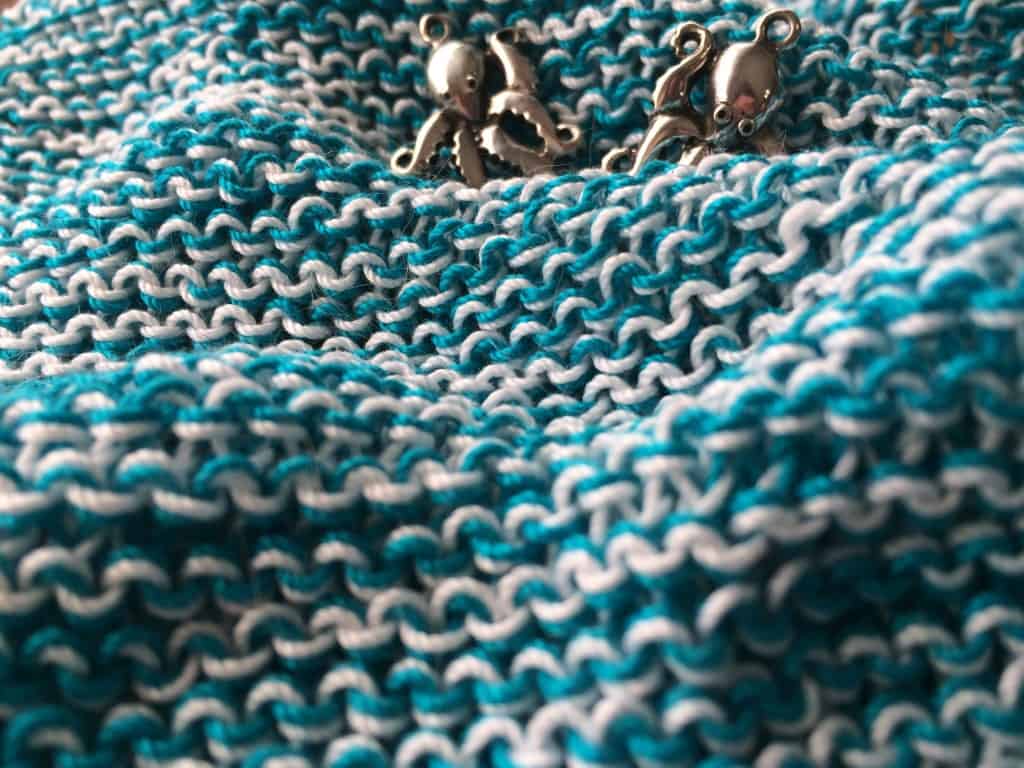 Activities
I participated in three demos with the Weavers of Orlando. I've written blog posts about two of those: St. Johns River Festival of the Arts and Arts at Audubon Elementary. The third demo was just this past Friday, and I'm working on writing a post about it!
I also traveled to New England to attend my cousin's college graduation. While there, I visited 12 yarn shops, including WEBS! I bought yarn in all the shops, and will be writing multiple blog posts about the experience. I needed to take pix of all the new stash for the posts and to update my Rav stash. I've been working on it and I'm just about finished. I will be posting about these shops throughout the month of June; I plan to get all the posts up no later than June 25 since several of the shops I visited are part of the 2015 I-91 Shop Hop which starts that day.