June is over! We are already halfway through the year! It is time to review my crafting goals for June and see if I met them or not. SPOILER ALERT: Not so great on the goals this month, but you probably guessed that from my lack of blogs for the last couple weeks. I'm not totally sure what happened. Let's break it down.
The Goals
HPKCHC Classes / Detention
Dye my second batch of homespun yarn
One Row Handspun Scarf by Stephanie Pearl-McPhee
MAPLE LEAF Shawl
Granny Squares
A pair of plain vanilla socks
Irish Hiking Mittens
Diagonal Dishcloths
Sheplova Mushroom Quinn Bag
Hugo Monster
Detention: Finish my First ever pair of socks
Quidditch
Round 3: Palindrome Hat
Round 4: Kitty Pi
HPKCHC Advanced Studies
OOTP Mission

Knit 12.5% per week of the Begonia Swirl Shawl
Shawl should be at 75% complete by the end of the month

OWL

The pin-drafted wool should have been completely spun in May
Spin the Psalm 23 Farm shetland blend
Turn in 50% = all the pin-drafted wool singles plus 4 ounces of the Psalm 23 Farm singles
Completed
So how did I do?
HPKCHC Classes / Detention
I dyed my handspun. I have not posted a blog post about that because I wanted to post it after I finished the learning to dye series. I'm working on post 3, which is a list of resources for learning to dye, and it is taking me a lot of time to collect and review those resources. Since I haven't blogged about dyeing my handspun this month, here's a preview picture: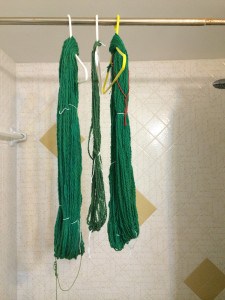 I did finish 9 Granny Squares, as I mentioned in the last WIP Wednesday post. I started a MAPLE LEAF shawl, but have not finished it yet. I'll talk more about that in the next WIP Wednesday post. And that's it. I'm so glad I had the Granny Squares done because I was able to turn those in for HPKCHC classes, making sure I got all the available base points.
Quidditch
I completed both the Palindrome Hat and the Kitty Pi by the applicable deadlines!
Advanced Studies
I got my OOTP Mission Begonia Swirl Shawl up to 50% complete during the first week of June, but set it aside after that and did not work on it again. I finished spinning the pin-drafted wool and spun 4 ounces of the Psalm 23 fiber in time to turn in my 50% OWL completion. I did not spin up the remaining 4 ounces of the Psalm 23 fiber before the end of the month.
Stashdown
Since I got so little done, you might expect that my stashdown progress wasn't great either. However, I gave away a couple of skeins that I didn't love and I also cut up a skein of yarn to use as dyeing samples, boosting my total a bit.
June's total: down by 1,453 yards
Year to date: up by 4,000 yards due to my fiber festival purchases
What happened?
Honestly, I'm not really sure. Part of it is that I haven't maximized my available crafting time. The major culprit is the MAPLE LEAF Shawl. For some reason, I'm just not feeling the love this time around. I've been trying to force myself to work on it so it would be done, but it's just not working for me. Part of it is that I've been prioritizing other projects, leaving me with less knitting time. That's all I've got. My wrist feels fine and is not slowing me down at all. Whatever the problem, you know I'm not going to let it stop me. Stay tuned for my July preview post, laying out my crazy and grandiose plans for this month!