When I first bought the Cascade Pinwheel yarn from Nomad Yarns last April, I planned to make a scarf, hat, and mittens set for charity. First I made the Palindrome Scarf using one skein of the yarn, then I made the Palindrome Hat with half of the other skein. I thought the Irish Hiking Mittens would use the remaining yarn, but they did not. I was left with just over 100 yards of yarn, exactly enough to whip up a quick hat, so that's exactly what I decided to do! I finished it yesterday.
Official Stats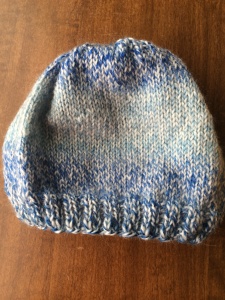 About this Project
I don't knit many hats. I live in Florida, after all, and we never get weather that requires a hat. When I decided I wanted to make a hat with the remaining yarn, I checked out the Ravelry project pages of my friend Stacy. She knits a lot of hats for charity, so I figured I would find an appropriate pattern by looking at her finished projects. I was right — she's made several of the Basic Baby Hats!
The pattern name is a bit of a misnomer since it includes multiple sizes, from premie up to teenager. I thought I had just enough yarn to make the teenager size, so I cast on 108 stitches. As I was getting close to the decreases for the crown, I realized that I would not have enough yarn to knit the teenage size as detailed in the pattern, so I made a few adjustments.
The teenage size requires you to knit to 6.75″ from the cast on edge before beginning the decreases. I knit as far as I dared, but only got to 6.0″ from the cast on edge before beginning the decreases. The pattern has you knit a plain round between each decrease round. I skipped the plain round #4 and #8, which basically meant I had one decrease round, one plain round, two decrease rounds, one plain round, three decrease rounds. I added that third decrease round at the end. The pattern has you decrease until you have 18 stitches left, then cut the yarn and draw it through the remaining stitches. That seemed like a lot of stitches for that treatment, so I did one more round of decreases, leaving me with only 9 stitches.
After finishing the hat and weaving in the end, I only had about 8 inches of yarn left in the ball! I'm glad my instincts worked this time. It's fun to finish a project at exactly the right point. The finished hat is a wee bit too small for me, but I'm certain that it will fit a small hue-mahn (I'm hearing that in Quark's voice and trying to spell it the way he says it!).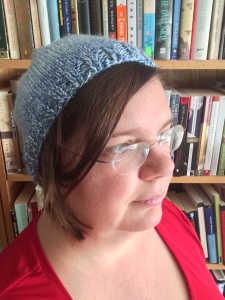 I am turning this hat in for Muggle Studies class. I did not have another project planned for that class yet, and one of the options was to craft something blue.