Yesterday I finished the socks that I have been working on for the last five weeks or so. These socks are the first pair of my HPKCHC OWL project for this term. In order to meet the OWL deadlines, I have two more pairs of socks to make this month and three pairs to make in November, so I've really got to increase my speed on socks!
Official Stats
Pattern: Two at Once, Toe Up Socks by Kelley Petkun
Yarn: 349 yards Knit Picks Felici in Lighthouse
Needles: US 1 / 2.50 mm
Finished Dimensions: calf high women's size 8 socks
Made for Me!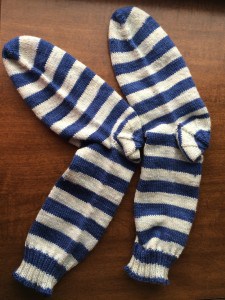 About this Project
The pattern and yarn I am using are both discontinued by Knit Picks. The pattern is really more of a recipe, walking you step by step through the process of knitting a sock. You measure and try on as you go so that you get a sock that fits the way you want it to fit. I printed the free pattern from Knit Picks website last fall, when I cast on for my First Ever Socks. Sometime between now and then, Knit Picks has removed it from their website.
This is the third pair of socks I have finished. I now understand this method of sock construction well enough that I only have to refer to the pattern to double check numbers and if I lost the pattern (or if one of my cats ripped it up, as nearly happened a couple weeks ago!) I would be able to get along without it.
I made a couple small adjustments in knitting this pair of socks. As I said I was going to do, I cast on and knit 74 stitch socks for the foot. After marking the location of the heels with waste yarn, I decreased back down to 66 stitch socks for the ankle and leg. I like the fit of the foot much better. I'm not sure how I feel about the leg.
The socks are slipping down a little bit. They aren't slipping all the way to the ankle, but they don't stay up all the way. I'm not sure if the slipping is happening because the socks are too tight or too loose. I did make this pair a little longer than the previous pairs. I did not want to do any calf shaping, so bound off at a length where I did not think calf shaping would be necessary. I was getting close to calf shaping territory, so I did an extra inch of ribbing at the top of the sock. I figured that the ribbing would give enough stretch to accommodate the little bit of flaring at the base of the calf. Now I'm not so sure.
For the next pair of socks, I'm going to try doing only one round of decreasing at the ankles, so I will have 70 stitches rather than 66 for the leg. We'll see if that makes a difference in the fit!