When we moved to Florida, I thought I would miss having four seasons. My husband said, "If you miss a season, we can always visit it." I've been living in Florida for 12 years now, and most of the time I do not miss seasons. We haven't taken a trip just to visit a season. We actually get 3 seasons here, though 'spring' and 'fall' do not happen when I expect them. We get fall-like weather in February. I even get to see leaves change in February; the Crepe Myrtles in our back yard turn brilliant red and orange. Still, September brings with it the expectation of changing colors, and when I look out my windows, everything is green. So the autumn colorway of the socks I finished before we left for California made me particularly happy.
Official Stats
Pattern: Two at Once, Toe-Up Socks by Kelly Petkun
Yarn: 305 yards KnitPicks Felici in Sugared Violets
Needles: US 1 / 2.50 mm
Made for: Me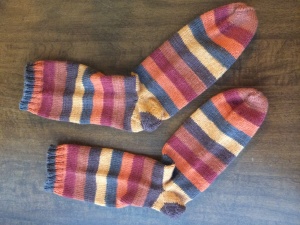 About this Project
I used the same pattern and yarn for these socks as I did for my first ever pair. I made only one change to the pattern, which was casting on 15 stitches rather than 7. This meant the toes were not as pointy. I like the fit of the toe much better!
Speaking of fit, these socks actually fit me!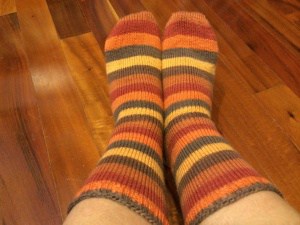 I knit the foot a little longer before putting in the waste yarn to mark the location of the afterthought heels, so the heels are in the right place!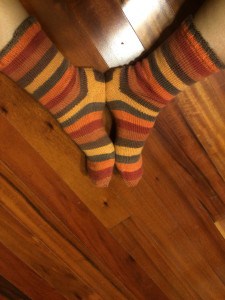 I do think the socks are stretched out a little more than I would like when I am wearing them. The two pairs of socks I've made so far have been 66 stitch socks. For the next pair, I'm going to try 70 or 74 stitch socks.
I will be making several more pairs of socks in the next few months. For this term's HPKCHC OWL, I've proposed to knit 6 pairs of socks for Arithmancy. The Autumnal Socks were my OWL swatch. This will be my third try at an Arithmancy OWL. I hope I finally get it done!
The Fate of My First Ever Socks
Since my first ever socks were too small for my feet, I have been shopping around for someone they would fit. When we were in New Jersey the last week of August, I discovered that they fit my sister-in-law's U.S. size 5.5 feet perfectly, so they are now hers!