I'm in San Francisco this week, vacationing while Chris is attending a conference for work. I'm having a wonderful time exploring this city. I've been getting a little knitting done too!
MAPLE LEAF the Sixth
I cast on for MAPLE LEAF the Sixth in mid-August. However, I only got about an hour's worth of knitting done on it. I frogged all that work and cast on again on September 4 so I could count this shawl for a HPKCHC class. I've gotten 3 or 4 hours of knitting into this shawl in the last week. It looks like this right now: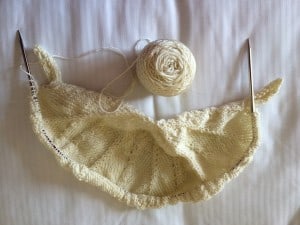 Stripey Socks
For this term's OWL, I am knitting 6 pairs of plain vanilla socks. I wanted to knit these on the plane since I had 7.5 hours in the air, so I cast on Sunday and got the toe shaping done so I could just knit round and round while in flight. That's exactly what I did. I have not done any additional knitting on these socks since I got to San Francisco. I'm probably halfway through the foot of the sock.