For months I kept telling you that I was going to make Irish Hiking Mittens. I kept putting them on my plan for the month, but never starting them. This was the project that got pushed off while I did other things. I finally finished them, just in time to turn them in by the Quidditch Match 2 deadline on Oct 6.
Official Stats
Pattern: Irish Hiking Mittens by iknit2purl2
Yarn: 129 yards Cascade Pinwheel in Color #12
Needles: US 6 /4 mm
Finished Dimensions: approximately 9″ long and 4″ wide
Made for Charity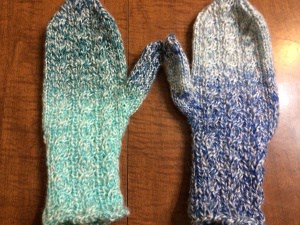 About this Project
I knit these mittens to complete a winter set. The other two pieces are the Palindrome Scarf and Palindrome Hat. The mittens are not an exact match to the hat and scarf, but the cables on these mittens were close enough that they worked for me.
I have made mittens before, but it has been many, many years (probably 20) since I last made a pair. I found this pattern to be easy to follow, and I am pleased with the finished mittens.
They are definitely small mittens. I have small hands and they just barely fit me. If I were to make this pattern again, I would make a couple adjustments. The proportions are just slightly off. The ribbed cuff comes up onto the ball of my hand. I think adding one cable repeat, with stockinette rather than ribbing on the back, before starting the thumb gusset instructions would be more pleasing. I also think that adding at least one, possibly two, cable repeats before starting the decreases would result in a better fit.
But these changes are only necessary if I were to make mittens for me. Living where I do, I almost never need mittens. And since this pair is for charity, I'm not sweating it; I'm sure the agency that receives them will serve someone that they will fit perfectly!