It's been 2 weeks since I posted my WIP Wednesday progress, and it's a new month. Most of the WIPs in my last WIP Wednesday post have been completed, and new projects begun.
Ravenclaw Socks
These socks aren't done, but I've made huge progress since the last time I posted. I only have the heels left, and I will probably finish them today.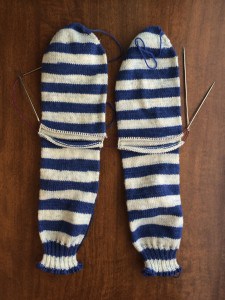 Basic "Baby" Hat
I knit a winter set for charity: a Palindrome Hat, Palindrome Scarf, and Irish Hiking Mittens (just finished yesterday and not yet blogged). I had about 100 yards of yarn left, just enough for a small hat. Yesterday, I cast on, following the teenage size of a Basic Baby Hat pattern. I expect to finish this hat today or tomorrow.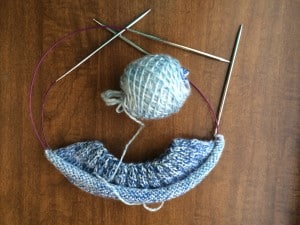 Brown & Blue Scarf
As soon as I finished weaving the Blue Sky Rainbow Scarf yesterday, I tied on another warp. This one is wider — 8.5″ in the reed — and I've only woven the first 4″ or so.