Over the last several years, I've spent a lot of time doing emergency knitting. I've knit at the vet while one cat or another was having an emergency exam or procedure. I've knit in hospital rooms, while visiting with a friend or family member. I've knit at home or in the homes of family members, while keeping a quiet vigil during a loved ones' last days.
Managing during difficult situations is one of the oft-cited benefits of knitting. Knitting is the perfect thing to keep your hands and, depending on the project and what you need, your mind occupied. The repetitive motion of the needles is soothing and the quiet click the needles make as they slide past each other is a white noise. You feel like you are doing something, which helps stave off the desperate realization that sometimes there is nothing that you can do. Knitting takes off just a little bit of that edge and allows you to be more present in whatever challenging circumstance you face.
Yesterday, I found myself picking out emergency knitting projects. We got the call that we knew would come sometime in the not too distant future. My mother-in-law passed away. We were able to find a flight for late in the day and we flew up to New Jersey. We don't know yet how long we'll be here.
This is a little bit different than the other times I've picked out emergency knitting projects. I had a little time to contemplate which projects to bring — I didn't have to just grab whatever WIP I could find on short notice. I don't know how long I'll be here, so I don't know how much time I will need to fill with knitting. I expect that most of the knitting I get done, will probably be done in the evening or other down times, as a way to relax. I won't be knitting while exhausted or knitting in dark spaces, so I could bring more complicated knitting rather than a plain stockinette project.
All of this added up to lace. It takes a while and is perfect for occupying the mind when you need a distraction. Plus, I have several lace WIPs in varying degrees of difficulty, so I can make progress on reducing my pile of WIPs and account for different levels of concentration. I ended up bringing 3 projects, all of them lace shawl WIPs.
Begonia Swirl
The first project I packed for this trip is Begonia Swirl. If you've read my blog for a while, you'll know that I've knit this before. A friend of mine borrowed it and accidentally felted it. A few months later, I bought the yarn to reknit it. I'm not sure exactly when I cast on, but according to my January 15, 2016 blog post, it was months before that. I've done significant knitting on it since then, but it has been months since I picked it up. Here's how it looks right now.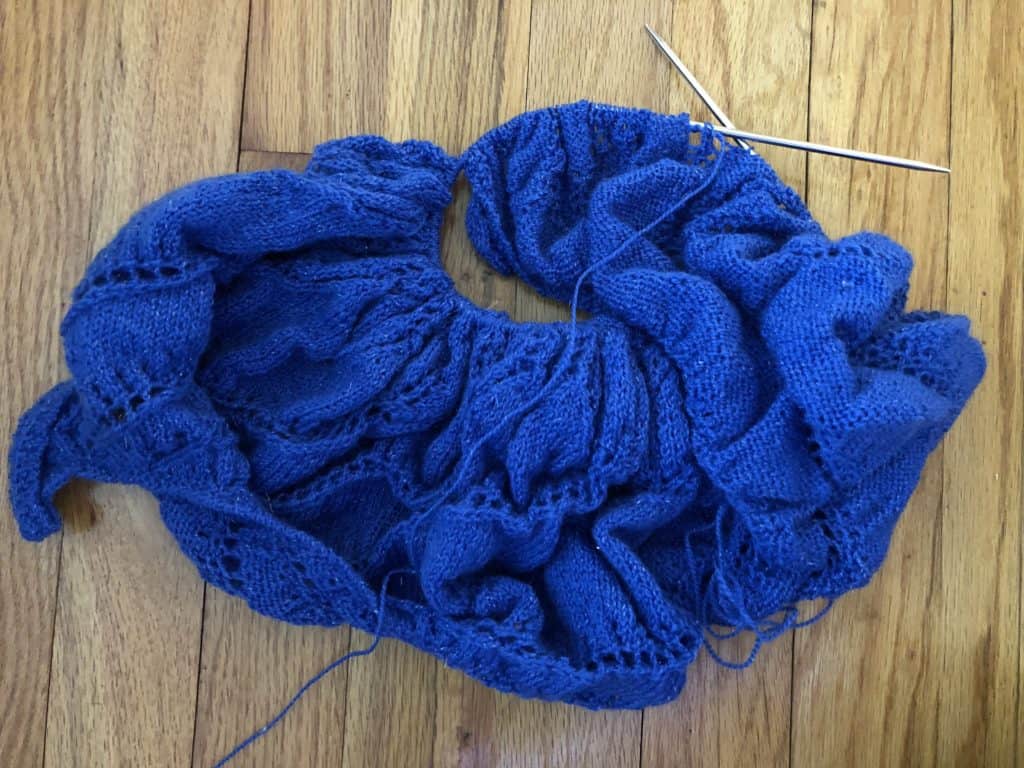 This project was a good choice under the circumstances. It's a straightforward pattern, mostly stockinette. I do have to count stitches as I knit, since I did not put in stitch markers to separate sections, but if I mess up it is easy to figure out where I am.
Morrigan
This shawl is one that I have never blogged about and I never created a Ravelry project for it. I cast it on in August 2015, knit about half of it and haven't looked at it since. The pattern is Morrigan by Beata Jezek (Ravelry link) and I'm knitting it with Nerd Girl Yarns Stellar, a laceweight yarn that is 75% Merino, 20% Silk, and 5% silver-toned Stellina, in the Colorway Merlin. I picked the pattern because Morrigan and Merlin are both part of the King Arthur mythology. It's not a difficult lace pattern, but of the projects I brought with me, this is the one that requires the most focus to knit because it is not a primarily stockinette pattern.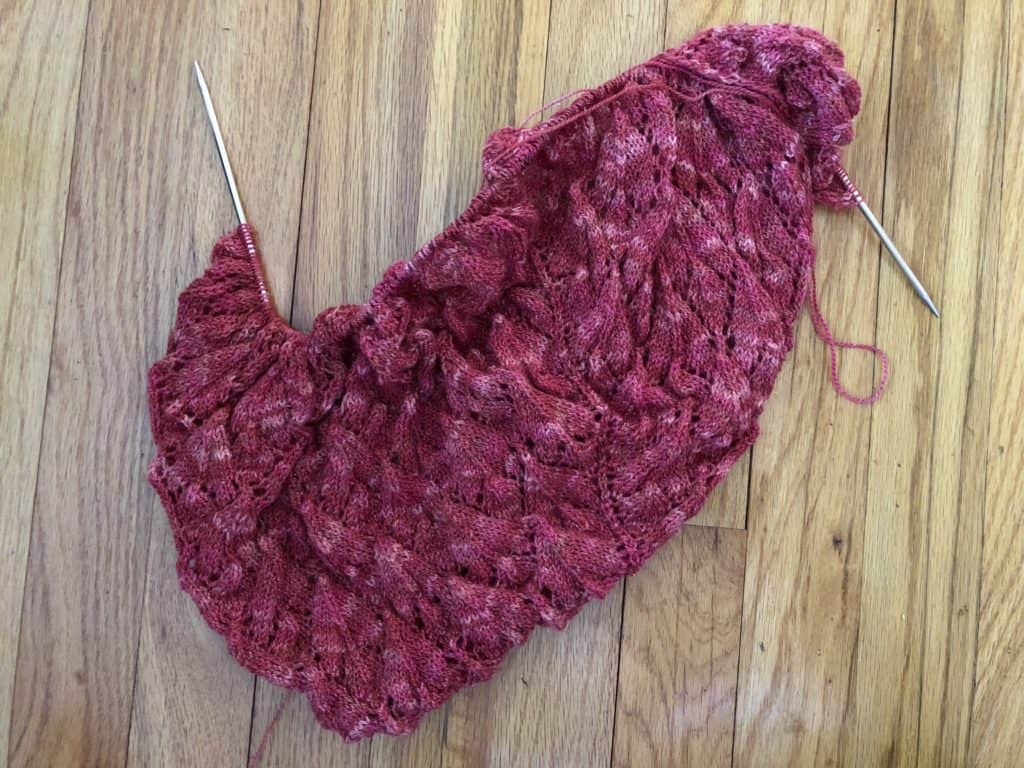 Linea
The final project is a shawl I started in mid-2107 and I have neither written a blog post about it nor added it to my Ravelry projects. This one is Linea by LaVisch Designs (Ravelry link). I am knitting it with Baah La Jolla (100% Superwash Merino) in Brazilian Emerald.
I sometimes test knit for LaVisch Designs and she earburns me to her Ravelry group whenever she has a new test knit available. This pattern is not one that I test knit; I bought the pattern after it was released.
Linea is a pretty basic knit and certainly the easiest of any of the projects I brought with me. One of my goals for 2017 was to knit some larger shawls. Linea is written for one skein of fingeringweight yarn, but I plan to use two skeins. I will increase the number of repeats of the body pattern until I think I have just enough to do the large border and bind off. I'm currently 3/4 of the way through the first skein.