For the past week, I've been focusing on getting these socks finished. Last Sunday, they came with me to Kennedy Space Center, and I worked on the legs while we waited for Space X to launch a rocket. They scrubbed 2 minutes before launch (an idiot at the local power company managed to accidentally cut power to the range radar), but I got an inch of knitting done. I finished the leg by Wednesday, and brought the socks to knitting night at my LYS so I could pick up for the afterthought heels. And I finished knitting the heels and weaving in the ends on Valentine's Day, because I spent that entire day lumping on the couch, wiped out with a head cold. At least the knitting got done 🙂
Official Stats
Pattern: Two at Once, Toe Up Socks by Kelley Petkun
Yarn: 366 yards Knit Picks Felici in Spring Mix
Needles: US 1 / 2.50 mm
Finished Dimensions: calf high women's size 8 socks
Made for Me!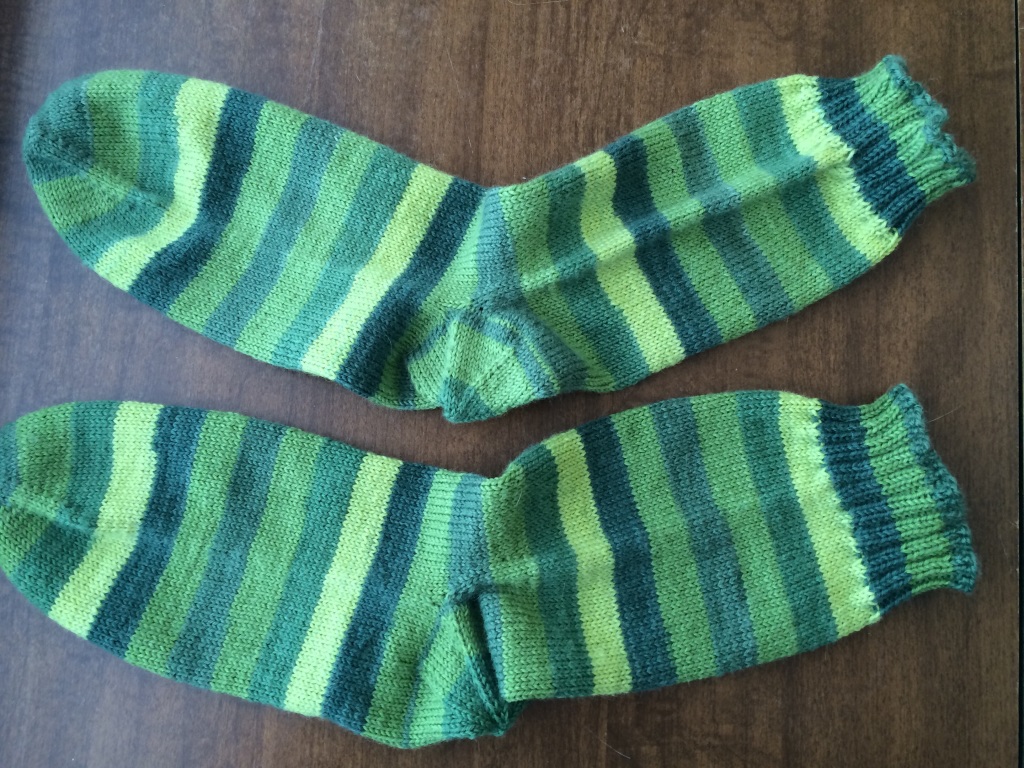 About this Project
This is the fourth pair of socks I've finished in the past year. With each pair, I tweak the pattern a little, hoping for a slightly better fit. This pair is the first time I did ankle decreases. The pattern did have instructions for ankle decreases, but I skipped them in the previous pairs. As I've worn them, I discovered that the previous sock legs tend to slip down to my ankles. I didn't want that to happen, so decided to try a bit more shaping. After I did the decreases for the ankle, I knit a few rounds and then started doing some increase rounds. I got the stitch count back up to the same number as I used for the foot, and continued knitting from there without additional shaping. Instead of worrying about calf shaping, I made the socks a just-below-the-calf length and did an extra inch of ribbing at the top so that if they came out taller than expected, the ribbing should stretch enough to account for the small increase in leg circumference at the bottom of the calf. I haven't worn them enough yet to see if they will fall as I walk around. I'm planning to wear them for a day or so before I cast on another pair of socks, so I can decide what, if anything, I want to tweak on the next pair!