This is another of the projects that I finished up last week while my sister was here. I finished the knitting the week before she came, but still needed to weave in the ends. Easy peasy!
Official Stats
Yarn: 440 yards Cascade Pinwheel in color #14
Needles: US 8 / 5.0 mm
Made for Charity
Finished Dimensions: 5.5″ x 65″ (after machine washing and drying)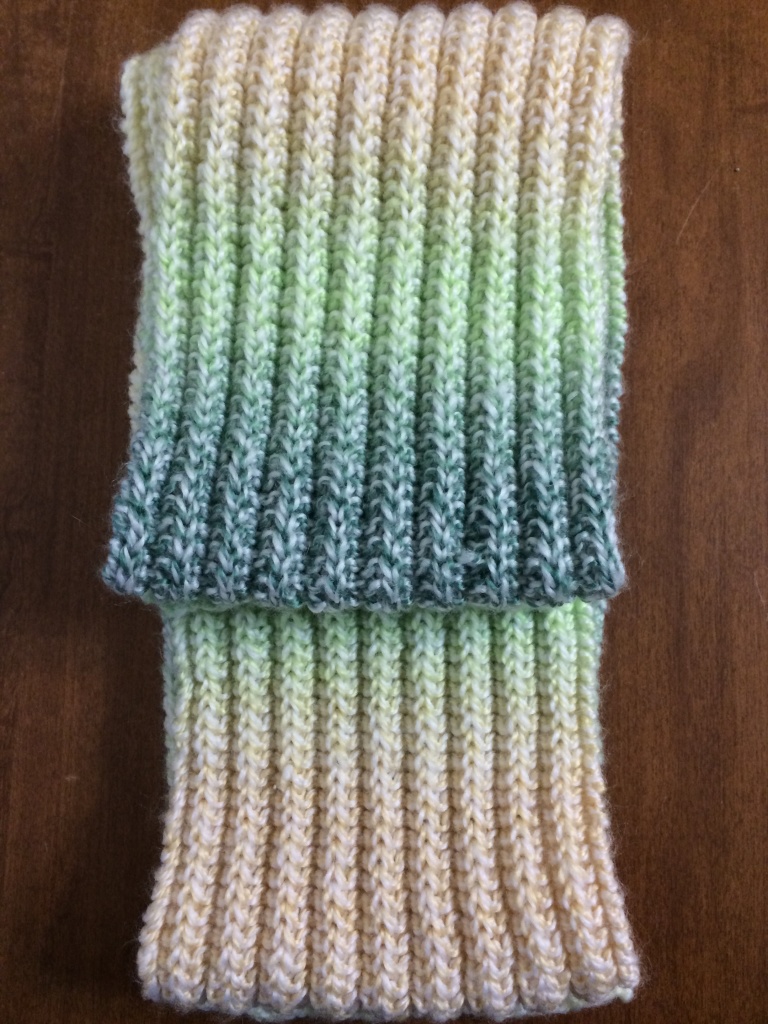 About This Project
My plans for January included knitting a scarf / hat / mittens set for charity. This is the scarf for that set. On December 30, 2014, I met my friend Stacy at Four Purls, a yarn store a little over an hour from my house. They had this Cascade Pinwheel yarn in many colors that I had not previously seen. I love this yarn for charity knitting. It is acrylic, so it can be machine washed and dried. It is a soft acrylic, not scratchy at all. All the colorways are long color repeats, and every single one that I have seen is beautiful. It is economical, at $11.00 for a 200 gram / 440 yard skein. I bought a lot more yarn than I should have — 7 colorways, 2 skeins of 5 of them and 1 skein (because that's all they had) of the other two. The yarn inspired me and as soon as I got home, I cast on for this scarf (using a colorway I already had, not one of the new ones).
This particular colorway had such regular color repeats that I had a difficult time getting a good picture that showed all the colors. As you can see, I fold scarves to take pictures. Every which way that I folded this scarf, I ended up with the same color showing on each fold, giving an inaccurate impression of the color changes. To get the picture above, I folded the scarf in half, then folded it back part way. Here's some of the other pictures I took before I finally figured out how to get all the colors in the picture: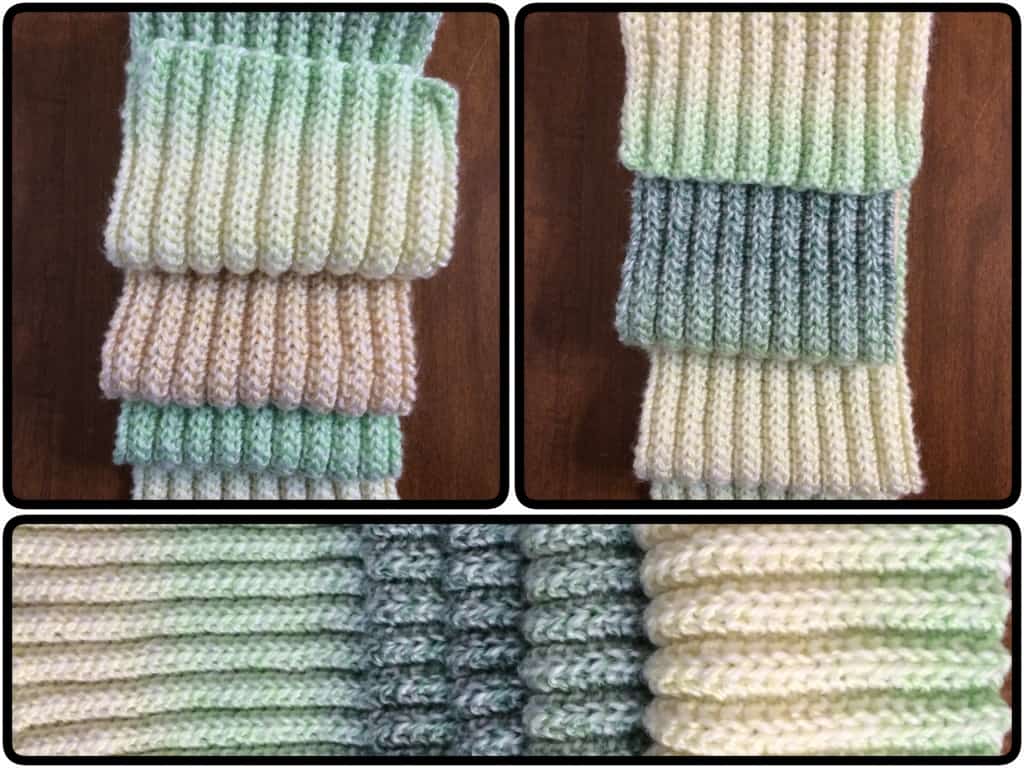 The pattern is super easy. Instead of purling, you slip a stitch with the yarn in front. Since you are still moving the yarn back and forth, it is not as quick as just knitting across, but it is probably a little bit quicker than if you were to actually purl the stitch. It's fun to see the rib appear with this unconventional method! I knit the scarf in less than a week, but it sat around for 10 days or so, just waiting for me to weave in two pesky little ends. I also washed and dried it — the first time I've done that with something knit with this yarn — because it had cat hair on it. I was happy with the results and you can judge for yourself, as all the pictures in this post were taken after it was washed and dried. Unfortunately, I did not measure the scarf before I washed and dried it, so I can't tell you if it shrunk or not. I will do that with the next scarf I make with this yarn!