Last week was busy, with little time for crafting or blogging. My sister arrived on January 10 for a one-week vacation. We went to see three movies (Into the Woods, Unbroken, Selma), which is more movies than I usually see in the theater in an entire year. We also watched Blu rays at my house; she saw Night at the Museum for the first time and I saw How to Train Your Dragon for the first time. We played lots of Pandemic, a board game
in which players work cooperatively to cure four diseases that are threatening to take over the globe. We played mini golf, went to Harry Potter World at Universal Studios and Universal Islands of Adventure, and spent a day in Saint Augustine. We visited family, including an impromptu dinner at my house one night. Three times we walked more than a mile: birdwatching with our father and other family, once to hang out with an uncle, and once to the library and back so I could return a book. It was a pretty awesome week! Although I didn't have a lot of time for crafting, I did finish up three projects. All three were mostly finished, but needed a little bit of finalization. The Tribbles are the first of these projects.
Official Stats
Pattern: Tribble by Abigail
Yarn (left to right, top to bottom in the picture below)

36.1 yards Knit Picks Dishie Multi in Cottage
34.2 yards Knit Picks Dishie Multi in Tug Boat
36.1 yards Knit Picks Dishie Multi in Sunflower
33 yards Lily Sugar'n Cream Ombres in Beach Ball
32.3 yards Knit Picks Dishie Multi in Nettle
40.5 yards Lily Sugar'n Cream Ombres in Landscape
34.2 yards Knit One, Crochet Too 2nd Time Cotton in Scottish Moor
34.2 yards Knit Picks Dishie Multi in Daisy
36.1 yards Knit Picks Dishie Multi in Lodge
34.8 yards Lily Sugar'n Cream Stripes in American Stripes
38 yards Knit Picks Dishie Multi in Heat Wave
38 yards Knit Picks Dishie Multi in Thistle
41.2 yards Peaches & Creme Ombres in Faded Denim
38.6 yards Bernat Handicrafter Twists in Holidays
39.9 yards Knit Picks Dishie Multi in Maps
36.1 yards Knit Picks Dishie Multi in Waves
39.7 yards Rowan Purelife in Revive
39 yards Lily Sugar'n Cream Ombres in Strawberry

Needles: US 9 / 5.5 mm
Made for Christmas 2015
Finished Dimensions: varies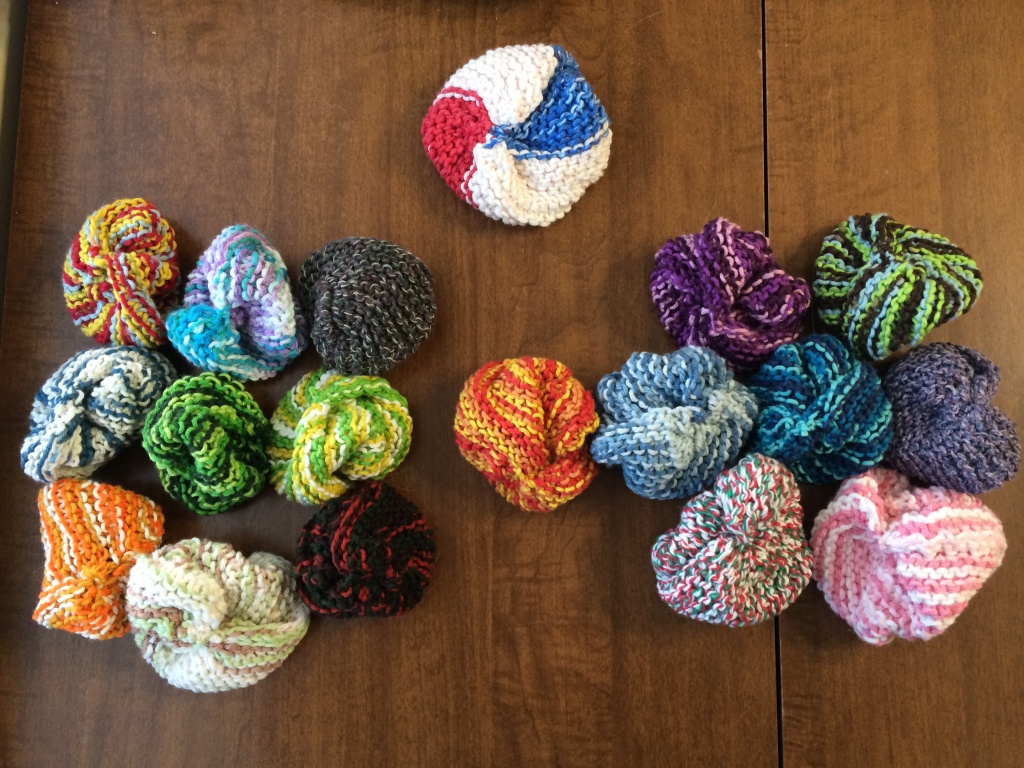 About this Project
The name of this pattern – Tribble – is a Star Trek reference (for a complete history of Tribbles on Star Trek, see the Star Trek wiki entry). Tribbles are cuddly little creatures, that seem to make great pets, until you discover that they multiply quicker than rabbits.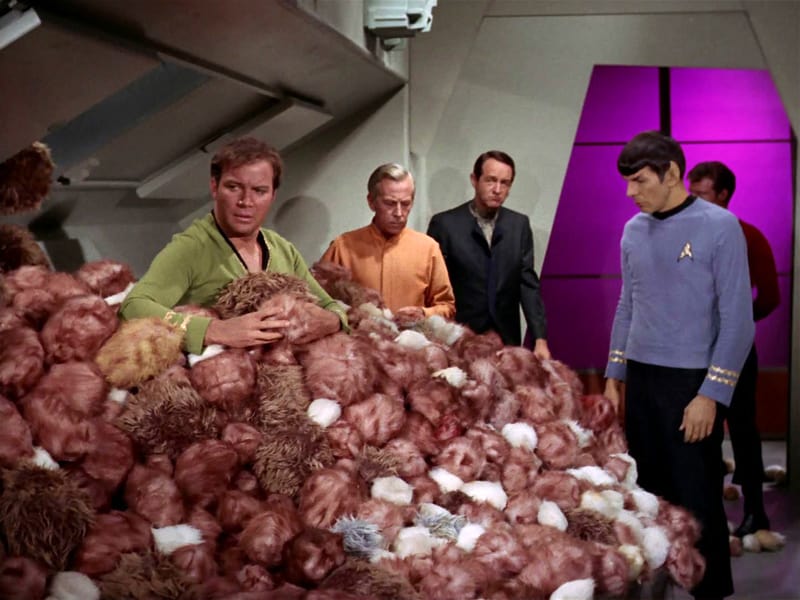 I assume this knitting pattern is named Tribble because you can't make just one. I also wonder if the pattern designer knew how the Tribbles were made:
Tribbles are made from a piece of "figure-eight shaped" fake fur, sewn up to make a ball about five inches in diameter. The ball is filled with foam rubber; some tribbles were made by sewing a decapitated walking toy dog inside the fur skin, and the toy activated to make the tribble crawl, as revealed in the DVD commentary by Michael and Denise Okuda for "The Trouble with Tribbles". (from the Star Trek Wiki article linked above)
To make the knitted tribble, you knit a strip, sew the ends together, sew the edges together and gather the edges. This forms a swirly disc reminiscent of a figure eight!
When I posted about this project in my UFO Inventory, I had completed one Tribble (American stripes, top center in the picture above), had knit 10 strips but not sewed them together yet (the nine on the left in the picture above, plus the Strawberry one on the bottom right of the group on the right), and had one on the needles (Heat Wave, bottom center in the picture above). Not only did I finish all of those, I knit 6 more of them this week (everything on the right except Strawberry). They really do seem to multiply as quick as their namesake!
I did not refer back to the pattern when I finished these over the last week. I probably should have, because I did something wrong in sewing them. You can see that the first one I did — American Stripes — makes a nice flat disc while the others are more scrunched up. I can't get them to lay flat. While writing this blog post, I reread the pattern and I think my problem is that I didn't pull the running stitch tight enough. I pulled it pretty tight, but then sewed one end of the side to the other. They might not be neat little discs, but they will still work to scrub dishes and that's the purpose after all!