A new month, a new set of projects in progress! Well, actually, it turns out it's only one new project and two that I started last month but haven't worked on for a while so I could meet other goals.
Begonia Swirl Shawl
I cast on the Begonia Swirl Shawl back on May 18, knit it up to 25% done and then put it aside for a couple weeks. This week, I picked it up again. I believe I've knit it to about 40% done, and hope to get it up to 50% done by the end of this week. I don't remember if I previously shared the spreadsheet I made for this shawl. Since all shapes of shawl, except rectangles, increase or decrease in size as you knit, it can be difficult to track progress. A spreadsheet that tracks your number of stitches helps you see just how far along you are. In the case of the Begonia Swirl Shawl, 50% is two rows into the edging. I don't always use spreadsheets for shawls, but if I am trying to finish by a specific date, the spreadsheet helps me set and meet goals. Here's what the Begonia Swirl Shawl currently looks like: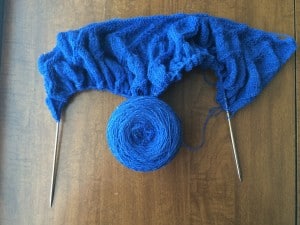 Pin-Drafted Wool Spinning
This is part of my OWL for HPKCHC. I originally bought 16 ounces of this pin-drafted wool, and I spun 8 ounces of it back in April. I planned to spin the other 8 ounces in May, but I haven't finished it yet. I've spun quite a bit over the last couple days, and I'm up to nearly 4 ounces spun. I hope to finish spinning the rest of it by the end of this week. Here's how it looks right now: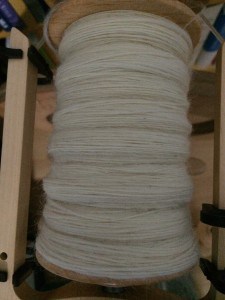 Palindrome Hat
I started this project on May 30 as my Quidditch Round 3 entry. I have to finish it by the end of this week, which should be no problem. The pattern called for only 3 cables, with plain ribbing for the rest of the hat. I decided to continue the cables through the entire hat, until I get to the decreases. I have one more pattern repeat to finish before I get there.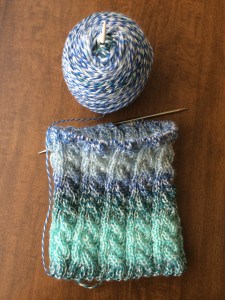 Blog Posts
I will be in Connecticut June 8 – 12 to help my sister move. I'm currently writing a series of posts on Learning to Dye yarn and I will schedule them to post once per day while I am away. Since I will be away on WIP Wednesday, next week we will have WIP Thursday!