I almost didn't have a WIP to post today, which is totally strange for me. But it's not yet midnight here and I've got a new project started, so here it is!
Plain Vanilla Socks
One of my project plans for this month was my second pair of plain vanilla socks. I plan to apply the lessons of the first pair. The first of the lessons is to cast on more stitches. The pattern called for 7 stitches, but that was too point of a toe for me. For this pair, I cast on 15 stitches. I haven't quite finished the toe increases. I have 6 more increase rows to go before I finish the toes!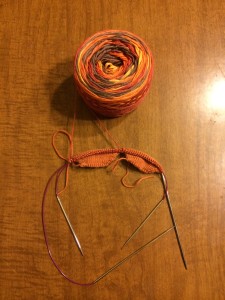 I am knitting these socks two at a time using two circular needles, as I did with my first pair. I am using two separate skeins of yarn, but I have wound them together into a single center-pull ball so I don't have to manage two separate skeins.
These socks will serve as a swatch for my Fall 2014 HPKCHC OWL project. I plan to do an Arithmancy OWL, knitting at least 4 pairs of socks. I do not have to finish this pair of socks entirely for them to serve as a swatch, but I would like to do so in order to have a better idea of how long it will take me to knit a pair and to insure that I get the right fit on my OWL socks.