I have been working on MAPLE LEAF shawls this week. Nothing but MAPLE LEAF shawls. No progress on the Granny Square Blanket or on the spinning. All MAPLE LEAF, all the time.
MAPLE LEAF the Third
I have been weaving in ends, here and there between housework and other knitting. I weave in ends until I can't stand it anymore, then move on to something else. I'm just about done with the ends and expect to be totally done by the end of the week.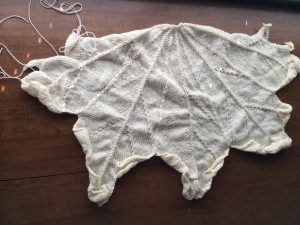 MAPLE LEAF the Fifth
I have finished the main central part of MAPLE LEAF the Fifth. I just have to do the corners and do the finishing work. I expect to be finished by the end of the week.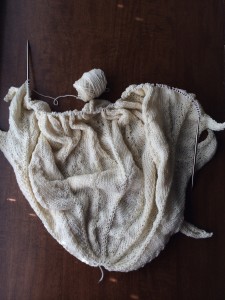 Coming Attractions
Once I am finished with the two MAPLE LEAF shawls, I plan to knit up my next pair of plain vanilla socks. I also want to make progress on the spinning. I am thinking I probably will not finish assembling the Granny Square Blanket this month since I will be away for the last week of the month. I do want to finish crocheting all the squares this month so that the only thing left to do is assemble.