I am not going to post about every project I completed during the six weeks I took off from blogging. I'm making an exception for this project, which I finished before Thanksgiving, because it provides an interesting comparison to the Hufflepuff Houndstooth Scarf.
Official Stats
Draft: Houndstooth
Loom: 15″ Cricket Table Top Loom
Reed: 10 dent
Warp Stats

Yarn: 150 yards (including loom waste) of Knit Picks Palette in Yellow and 150 yards (including loom waste) of Knit Picks Gloss Fingering in Cranberry
Loom waste: 32 yards
Total Warp Ends: 110
Ends Per Inch (EPI): 10
Warp Length: 100″

Weft Stats

Yarn: 185 yards Knit Picks Palette in Yellow and 131 yards Knit Picks Gloss Fingering in Cranberry
Picks Per Inch (PPI): 10 – 12
Width in the Reed: 11″

Finished Dimensions: 10″ x 82″ (including the length of the fringe)
Made for: Three people asked for this scarf, but my sister was first, so she wins 🙂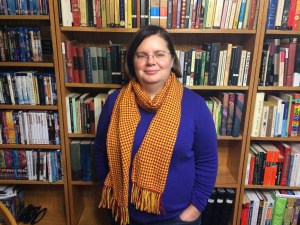 About this Project
I wanted to post this project specifically because I used the exact same yellow yarn in this scarf as I did in the Hufflepuff Houndstooth Scarf, but because the second color is a different yarn — black in Hufflepuff and cranberry in Gryffindor — the yellow looks a little different. Here's a couple pictures of the two scarves side-by-side: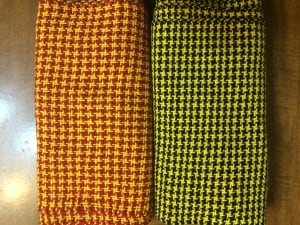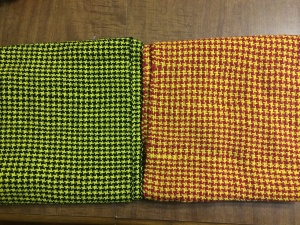 The yellow in the Gryffindor scarf looks warmer than the yellow in the Hufflepuff scarf. While the difference is apparent in both pictures, I think it is more pronounced in the picture that is zoomed out a little farther. If you squint, the Hufflepuff scarf almost looks green and the Gryffindor scarf almost looks orange.
Since I started learning to dye last year, my color preferences have expanded. Before I did any dyeing, I would pretty much stick to cool, jewel-toned colors with some neutral blacks and browns and sometimes red. If you asked, I would have told you that I would never wear yellow or orange because they just would not look good on me and I just don't like those colors anyway. When I started dyeing, I surprised myself because I found some of the oranges to be stunningly beautiful. Now these scarves showed me that it isn't just dye that can change colors. Colors change based on their companions.