I'm addicted to weaving. I love the rhythm of plain weave and how quickly I can see progress on a project. I have been keeping my loom clamped to the dining room table and throwing a few picks whenever I have a free 10 or 15 minutes. Even in a short time, I can see that I am getting closer to completion. It's like instant gratification!
Official Stats
Draft: Plain Weave
Loom: 15″ Cricket Table Top Loom
Reed: 8 dent
Warp Stats

Yarn: 220 yards (including loom waste) Knit Picks Wool of the Andes Worsted in Chocolate
Total Warp Ends: 72
Ends Per Inch (EPI): 8
Warp Length: 100″

Weft Stats

Yarn: 283.5 yards Patons North American Classic Wool Worsted in Wedgewood
Picks Per Inch (PPI): 13
Width in the Reed: 9″

Finished Dimensions: 8″ x 88″ (including the length of the fringe)
Made for: Christmas present, I think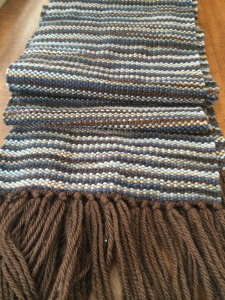 About this Project
I was very excited that the scarf came out looking striped. The weft yarn is a variegated yarn with short lengths of color. I did not measure the length of the colors in order to plan for stripes. I calculated the width of the scarf in order to use up all of the warp yarn. The stripes were a happy accident.
I was also happy to discover that Knit Picks Wool of the Andes was a good warp yarn. I mentioned in my previous weaving posts that I was struggling to find warp yarn in my stash. I have several balls of Wool of the Andes that I received as Christmas gifts in 2006 or 2007. They've just been sitting in my stash, waiting for me to find an appropriate project. Now I can use them for warp yarn!
When I originally made this scarf, I thought I would give it to charity. Now that it is finished, I'm thinking I might give it as a Christmas gift. I have just enough of the Paton's yarn left to make a matching hat. I like to make gifts for my family, but I usually only make gifts for the women because I don't have good ideas for handcrafted gifts for the men. This scarf, with a matching hat, seems like a good gift for one of the men, and got me thinking that I could make scarf and hat sets for some of the men on my list. I'm going to go through my yarn stash and see if I have appropriate yarn for everyone.