Worldwide Knit in Public (WWKIP) Day celebrated its 10th Anniversary last Saturday, June 13. Danielle Landes started WWKIP Day in 2005 as a way for knitters to get to know each other. Local knitters organize and publicize events. The number of local events has grown over the years. In 2005, only 25 events were held. In 2015, knitters in at least 56 countries organized a total of 882 events!
It's been a few years since I've gone to an official WWKIP Day event. I try to go somewhere in public and knit on that day, but I don't necessarily try to find a group. This year, however, the knitting group I attend at my local library held an official event. The knitting group usually meets in a meeting room. For the WWKIP Day event, we met in the main sitting area at the library. The library publicized the event in a couple local papers and had signs up in the branch for a couple of weeks beforehand. Nearly 20 people came, and most were people who had seen the ad in the paper. Many didn't know the library had a regular knitting group!
The event at the library was 1 pm to 3 pm. I didn't arrive until 1:45 because just as I was about to leave the house, Chris and I started talking about plans for the end of June. We decided to buy tickets to view the Space X Falcon 9 launch from the causeway at Cape Canaveral. I bought those tickets, then booked a nearby hotel. The launch is at 11: 09 am, we have to be there at least an hour before launch to take a bus to the viewing location, it's a 1.5 hour drive to get there from our house, and we aren't exactly morning people! Once I finished those plans, I headed to the library. This is what it looked like when I got there: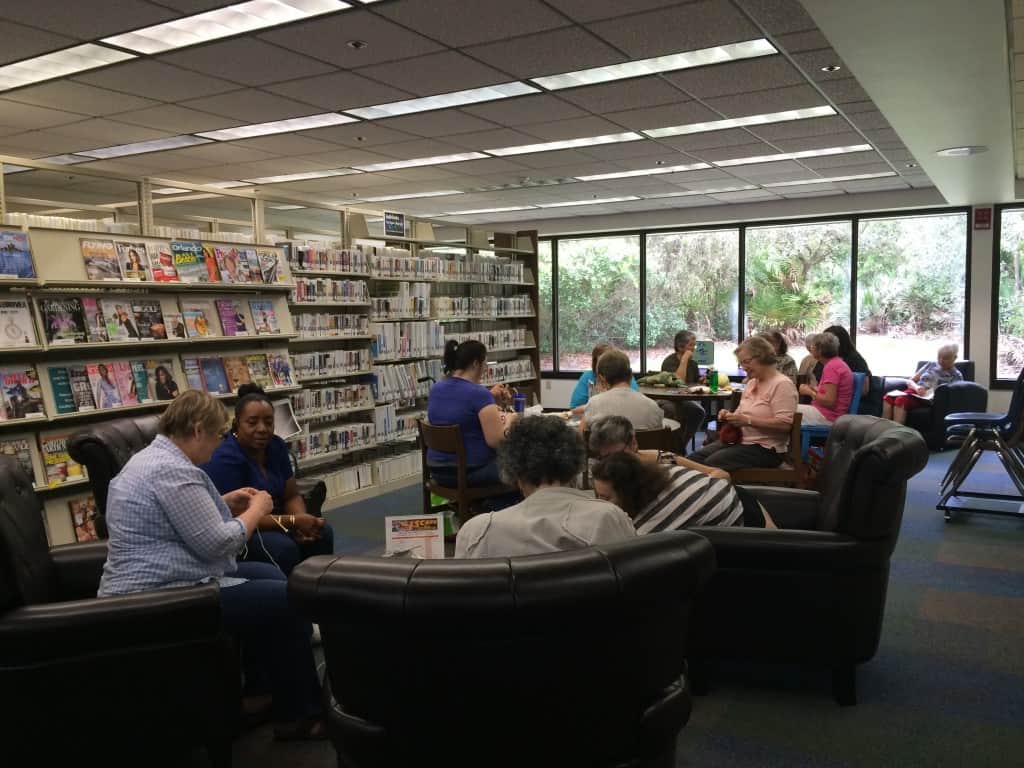 I spent a pleasant hour knitting and chatting, then went over to my LYS and spent another two hours knitting and chatting. It was a lot of fun!