I've been working on this scarf as a goal for HPKCHC Quidditch Match 3, which ends at midnight POT today! This project just seemed to go on and on and on. But that's pretty much what it's like whenever you knit a scarf!
Official Stats
Yarn: 440 yards Cascade Pinwheel in color #13
Needles: US 9 / 5.5 mm
Made for Charity
Finished Dimensions: 6″ x 74″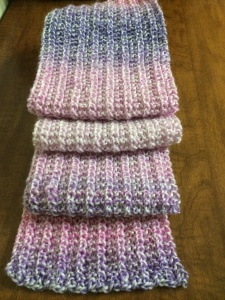 About This Project
For this round of Quidditch, we had to knit a project that another player had turned in for Quidditch Round 2. I went looking for a scarf because I want to knit another scarf / hat / mittens set for charity. Only a couple players had turned in scarves and I thought this one would work best with this yarn. While Cascade Pinwheel is a commercially produced rather than handspun, it is rather thick and thin. I thought this pattern would be forgiving and it was.
I cast on 34 stitches rather than the 26 in the original pattern because I wanted a slightly wider scarf. I considered going a little bit wider than 34, but I knew I wanted to use only one skein and was worried I wouldn't get enough length if I went much wider. I probably could have gone an inch wider and still been fine with length, but I'm also happy with the finished dimensions of this scarf.
This was a super easy project to knit. It only took one or two rows to have the pattern memorized and I just knit until I came to the end of the skein. I managed to start binding off on exactly the right row. I had enough yarn to finish the bind off and weave in the end. If I had tried to knit one more row, I would have had to rip back because I had run out of yarn. I love it when things work out like that!