Back on April 30, I finished my second spinning project! I did not have time to post about it before I left for Maryland Sheep and Wool, so I am getting to it now. I finished spinning 8 ounces of the pin-drafted roving I got from Ohio Valley Fibers at The Fiber Event in Greencastle. I started spinning this fiber while I was at The Florida Sheep, Wool, and Herding Dog Festival, and in my post about that event, I included a progress photo.
Here is a picture of it on the bobbins after plying.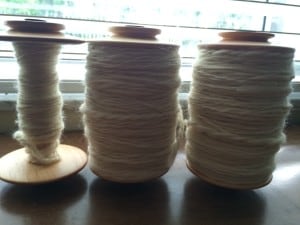 I got 374 yards out of the 8 ounces, so it is a heavy worsted weight. As I was plying, I could see a significant improvement between the beginning and end of spinning this yarn. The yarn was thinner and more consistent as I went. My joins were also better.
I hung the yarn to dry, without weighting it this time.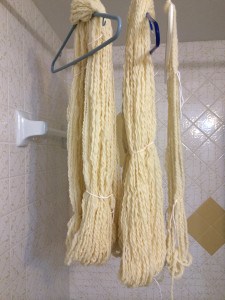 Here's a close-up so you can see for yourself that I am getting better!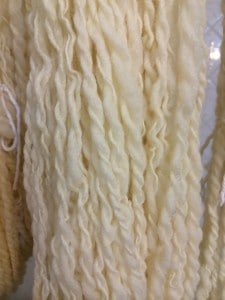 Now I have to figure out what to do with this yarn. I don't want to have it just sitting around. I want to knit with my handspun!