My spinning wheel arrived. I bought the wheel on Friday at The Fiber Event in Greencastle, Indiana. Susan told me that by ordering it on Friday, I should have it on Monday. All day, I was distracted, waiting for the wheel to arrive. FedEx and UPS deliver to my house late in the day. I rarely get packages before 5:oo pm, and at busy times of the year (December), I've gotten packages delivered as late as 9:00 pm. Still, I paced around the house. I randomly peeked out the window at my front stoop, just in case I missed the sound of the doorbell ringing. Finally, at 6:10 pm, the doorbell rang. My wheel had arrived!!!
The wheel arrived in pieces, and I had to assemble it.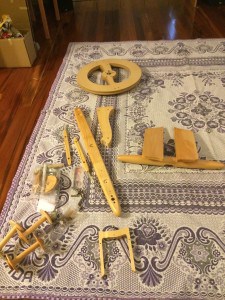 It took me two hours, but I did it all by myself. My husband was sitting on the couch, watching tv, and I thought I might have to ask him for help. I ended up only asking him where to find a couple told that I needed. Isn't it beautiful?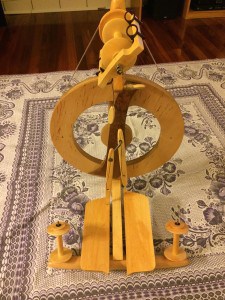 I've named the wheel Essay. While I was trying the wheel, both my friend and Susan kept saying, "The wheel chooses you." This, of course, immediately made me think of the Harry Potter saying, "The wand chooses the wizard." Essay = S.A. = The Sorcerer's Apprentice. This name blends the Harry Potter wand / wizard quote with The Sorcerer's Apprentice cartoon that is part of the Disney (I live in Orlando = Disney World) Fantasia (the wheel is a Kromski Fantasia) film.
I've already started spinning on her. I'll post my ugly first yarn once it is finished!